-
QPR today announced the death of Former QPR Player, Ivor Powell. He was 96.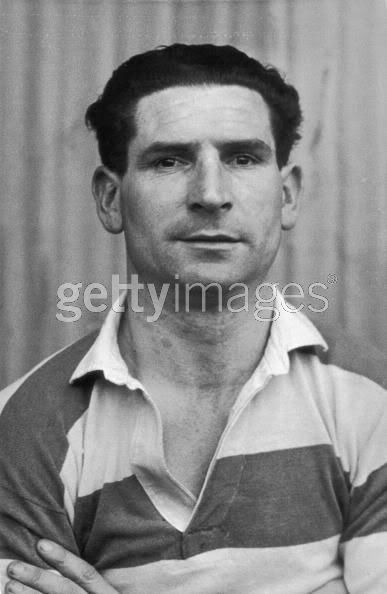 Queen's Park Rangers: Division Three (South) Champions (1947-48)
Back row, left to right: A. Addinall, G. Powell, R. Allen, R. Saphin, A. Jefferson, J. Eggleton (trainer)
Middle row, left to right: D. Boxshall, G.Stewart, C. Hatton, Mr D. Mangnall (manager), D. Mills, J. Hartburn, G. Smith (captain)
Front row, left to right: I. Powell, A. Smith
QPR 1948-49
Standing, left to right: J. Eggleton (trainer), L. Powell, G. Powell, R. Allen, A. Smith, A. Addinall, A. Jefferson, Dave Mangnall (manager)
Seated, left to right: W. McEwan, C. Hatton, G. Smith (captain), D. Mills, J. Hartburn
From a 2008 QPR Official Site Interview and Profile

Jan 2008: QPR OFFICIAL SITE INTERVIEW WITH POWELL

POWELL'S PALACE DATE

Former R's half-back Ivor Powell is looking forward to a big day out at Buckingham Palace next month.

The 91 year-old was awarded an MBE for services to sport in the New Year's Honours list. So now Powell is going to meet the Queen to pick up his gong.

Speaking exclusively to www.qpr.co.uk, Powell said: "I'm very happy about it. This is a real honour and privilege. It was a big surprise when I got the letter.

"I have to travel up to London for the ceremony in February. Unfortunately, my wife Joan died four years ago and that was a big loss for me. But I will be accompanied on the trip by other family and friends."

Powell moved from his native South Wales to join Rangers in 1936. His life was to change forever.

"When I left school, I worked in a mine with my father and six brothers," he said.

"I was there seven hours a day, six days a week. We had to walk a mile and a half underground every time to reach the coal face. I was only earning 12 shillings and a penny each week.
"I also played amateur football for a local team called Bargoed Thursdays FC. After we won the league and cup by remaining undefeated, Queens Park Rangers picked me up.

"I was called in to sign for the Club by QPR Manager Billy Birrell when I was 20 years-old. It felt like becoming a millionaire! And I said to myself 'I'm never going down that bloody coal pit again!' I never did.

"The top wages I received at Loftus Road were £7 a week in the reserves and £8 in the first team. We got £6 in the summer. There also were bonus payments of £2 for a win and £1 for a draw."

Powell made 157 appearances for Rangers in a 12-year spell that was interrupted by the War. He was part of the R's team that clinched the Division Three South title in 1948 and was our first post-war player to be capped - going on to make eight Welsh international appearances.

"QPR had a very good side in those days," he said.
"The secret was that there was a great spirit in our squad. We all linked up well together and we had a lot of excellent players like Billy McEwan, Cyril Hatton and Arthur Jefferson.

"Our team formation was very far removed from what you see today. We had a goalkeeper, two full-backs, three half-backs and five forwards.

"We also played with a heavy, laced-up leather ball. It was totally different to those much lighter versions that they use in the modern game which I call tennis balls!"

Nowadays, the sprightly Powell passes on his tactical knowledge to the players at Team Bath FC of the British Gas Business Southern League Premier Division. He relishes his involvement and has been officially recognised by the Guinness Book of Records as the oldest working football coach in the world.

"I take training sessions on Mondays, Wednesdays and Fridays. I also sit in the dug out at our matches," said Powell.

"I like to see football played hard but fair. My watchwords have always been aggression, determination, work rate, consistency of performances and the will-to-win. If players adopt those characteristics then they will do well on the field.
"I can spot little things in matches that need to be corrected and the lads appreciate me telling them quietly. I don't curse and yell. I coax and encourage them.

"The most important thing is that I never ask anybody to do something that I can't do myself. But then again, I can still demonstrate passing and heading as well as producing a few tricks with a ball!
"I have been in the game for more than 70 years and I have received great pleasure from every moment of it. But I am not done yet and I will keep going as I am enjoying it and I have still got something to give.

"As long as they want me at Team Bath, I'll be here. Anyway, I have got to show my great-great-grandchild that I have still got the power, the strength and the health in me!

"I will never forget my early days down in the coal mines with all those hard working people. Their plight has forever been etched on my mind and that has given me the willpower to carry on in coaching right into my nineties."

Powell is a walking encyclopaedia of football recollections and when he is greeted by Queen Elizabeth next month, he is sure to talk about the Club where it all began for him.

"QPR were my first true love," he said.

"I really relished my time at Loftus Road. Every match where I pulled on the famous blue and white hooped jersey was a dream come true for me. So Rangers will always be my team. I still follow all their results and I hope the R's do well in the future."