-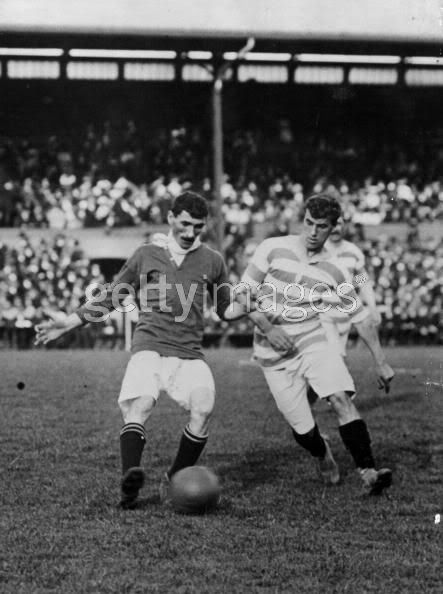 ________________________________________________________________________________
QPR REPORT QUESTIONS AND ANSWERS
A MANCHESTER UNITED FAN PERSPECTIVE
QPR Report Question and Answer sWith Jordan Street from the Manchester United Blog, Old Trafford Faithful Many thanks to Jordan for doing this Questions and Answers.
QUESTIONS and ANSWERS
Q: How do you think the Norwich result will impact on you...Shatter your confidence (yeah right!) Or just make you even more determined/ensure no over confidence
We've suffered back to back losses now, which is never good at a club like United. However I fully expect the lads to be more determined to go out on Saturday and get the right result.
Q: Starting simply: How long have you supported Man Ut?
A: 14 years
How long have you been involved with your Website? How did you get to your site?
I've been involved with my site for 9 months now. Funnily enough my University lecturer gave me the idea to start up my own blog, and ever since then it has gone from strength to strength!
How do you get on with the other Man Ut sites: Are there any serious inter-board conflicts (as there certainly are - or certainly were - between certain QPR boards!)?
I get on with most other United blogs to be honest, I've never conflicted or had any problems with anyone. They are all good lads and are always willing to help out if I have a problem.
How do you feel about Man City? But is it Envy/Hatred/Disdain/Contempt or none of those?
How about other big rivals: in England or broader: Liverpool, Chelsea, Leeds, European, etc
It's a definite hatred towards City, it was a different rivalry up until Sheikh Mansour took over, but now they compete for the title it's much more of a fierce rivalry.
Are you happy with Man Utand how things are? - Can you explain/do you understand how things got to this point?
I'm fairly satisfied. Three league defeats at this stage of the season is a slight concern, but as we all know United get better as the season goes on so i'd expect us to push on and go on a nice unbeaten streak. If you look at our fixtures we certainly have the potential to go unbeaten till Christmas time (City away being an exception)
What do you think of the Glazers?
Where do you start with these lot? They are leaching our club from the inside and it's severely hampering us (especially in the transfer market) Many fans refuse to pay to watch United nowadays because of them. Sadly they'll be around for a long while yet.
How do you think Man Ut treats its fans? Appreciates them? Listens to them? Screws them?
It's a tough one really. We can't really argue as we've been hugely successful over the past twenty years. In some respects they screw us, especially with ticket prices for games such as Capital One Cup ties. They try to charge £40 for an adult ticket in that competition and then they wonder why Old Trafford is half empty. Sir Alex has always been good with the fans though, he never forgets that without us, there is no United.
Who are you Dangermen/Most valued/most overrated/most underrated players?
Our obvious danger men are Wayne Rooney and Robin van Persie, these guys could single-handedly fire us to the title if they remain fit all season. Javier Hernandez is also a massive threat coming off the bench, his movement is fantastic.
Our most underrated player is Michael Carrick, nobody ever gives him any credit. He does a great job in the middle of the park breaking up the play and starting off moves going forward.
Ashley Young is probably the most overrated player at United, why we even bothered buying him in the first place is still a mystery.
Who would you say was the greatest Man Ut player that you yourself personally saw? (You can name more than one if it's that close!)
Ronaldo all day long. He's a genius. His game has everything, he has pace, power, agility, and skill. He can finish with either foot or his head. Yes he moans an awful lot but when he's scoring almost every game you forgive him!
Prediction for season? And how would that compare with pre-season prediction? In your heart of hearts, what were you expecting pre-season for Man Ut? (Or do you every season Seriously Expect to win everything
We won't win everything, it'll be tough this year but I think we'll win the league.
What is your view and the general Man Ut view of QPR (If we even feature in your consciousness) or of Mark Hughes? Is he hero still?
Sparky will always be a hero as a player. Sadly he has ruined his reputation as a manager when he became City boss. He started off his managerial career really well at Blackburn, and he has gone downhill ever since.
Are you looking forward to playing QPR?
I guess so, with no disrespect to QPR we need to go out and make a statement. We need to keep a clean sheet and score a few goals, especially after losing at Norwich last weekend.
SCORE PREDICTION for Man Ut-QPR
3-0 United